Beginning with "The Tell-Tale Heart," Mr. Keltz added "The Black Cat," "The Facts in the Case of M. Valdemar," "Hop-Frog," "The Cask of Amontillado," "Some Words with a Mummy," and "The Spectacles" to his repertoire. In keeping with Edgar Poe's own "Poetic Principle," Mr. Keltz recites "To Helen," "Annabel Lee," "The Raven," and many more of Poe's famous poems.
In his travels, Mr. Keltz performed in Prague, Czech Republic for the International Poe Festival, opening the Festival at the Rudolfinum Concert Hall with "The Bells." Stateside, he continues to bring Edgar Poe to life throughout the United States for elementary and high schools, universities, and private organizations, large and small. His popular Poe Bus Tour of Baltimore was a highlight of the Poe Studies Association International Conference in 2002.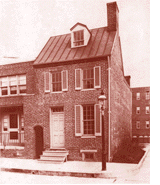 Besides traditional theatre settings, performance spaces as diverse as castles, libraries, medical theatres, and private dining rooms provide the backdrop for his personification of the genius we recognize as Edgar Allan Poe. Each performance is tailored to the particular audience and ranges from 10 minutes to 2 hours.
Mr. Keltz's television credits include "Homicide: Life on the Street," and for the BBC, "Hannah USA." Film credits include E.A. Poe: Visionary and The Raven for arte-TV in Germany and France. In 1995 he personified Edgar Allan Poe in TV commercials for the NFL Baltimore Ravens. Stage credits include leading roles in Exit the King, Sticks and Bones, The Caine Mutiny Court-Martial and Rashomon. As a solo performer, he reincarnates such diverse characters as D.H. Lawrence, H.L. Mencken and Captain John Smith. Mr. Keltz received his B.A. in Theatre from Florida Atlantic University and is a longtime member of Screen Actors Guild.